Fireworks and festivities: preparation for New Year's Eve celebrations are in full swing around the country. But what how accessible are the celebrations happening at our major capital cities? We've compiled the available information to help you plan your New Year's Eve.
New Years Eve Celebrations around the world
New Years Eve is a tradition celebrated around the world. In Chile, the locals wear yellow clothing for good health. In Mexico, coins or charms are baked in sweetbreads with whoever finds the coin blessed with good luck. The Japanese clean and cook traditional food to welcome Toshigami, the New Year's god. And Belgian farmers make a point to wish their animals a happy new year.
In Australia, most traditions focus on food and fireworks and fun. For many, New Year's Eve is a time to reflect in the year that's been and celebrate the year that is coming.
Melbourne Accessibility New Years Eve Celebrations
The City of Melbourne will celebrate the New Year with two lots of fireworks. The first at a family friendly time of 9:30pm at Yarra Park. Find more information about Melbourne's NYE firework timings here. 
The second will kick off at midnight and can be seen from four official celebrations zones: Treasury Gardens, Flagstaff Gardens, Docklands and Kings Domain. Find more information about Melbourne's New Years Eve fireworks here.
The City of Melbourne lists the accessibility features of
the New Year's celebrations, they include:
All Fireworks Celebration Zones are wheelchair accessible.
Accessible toilet facilities are available at all Fireworks Celebration Zones.
All City Loop train stations are fully wheelchair accessible.
The feature film and pre-feature entertainment will be captioned.
See more information, including public transport and downloadable maps, here.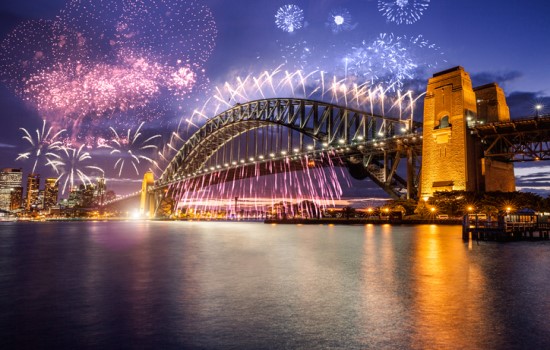 Sydney Accessibility New Years Eve Celebrations
The New Year's Eve celebrations in Sydney are without a doubt the largest in the country. The festivities kick off at 7pm with a water display from a tug boat and they ramp up from there. There's an official welcome to country and smoking ceremony performed by Gadigal Elders, followed by an air display and then projections on the famous Sydney Harbour Bridge.
The family fireworks begin at 9pm, with the main event taking place at midnight. The Sydney celebrations are livestreamed on the official website broadcast live by the ABC and simulcast on KIIS 1065.
The City of Sydney has a number of designated accessible viewing areas, including Bradfield Park, Royal Botanic Garden and Domain and the Sydney Opera House. See more information and book tickets here:
In addition, a Changing Places facility will be available in Millers Point.
Access maps also show the level of effort required to navigate particular routes in a wheelchair. As well as broadcasting the celebrations, the ABC will also Provide audio description of the 9pm family fireworks, Harbour of Light parade, Calling Country and the midnight fireworks.
You can listen in via your local ABC station, via the ABC listen app of the ABC website. 2RPH will also be broadcasting the audio description.
If you need more information, you can contact the Sydney New Year's Eve Accessibility Officer on (02) 9265 9333 or at [email protected]
For more information about accessibility for Sydney's New Year's Eve celebrations.
Perth New Years Eve Accessibility Celebrations
Perth will celebrate the New Year across two venues: Yagan Square and Perth Cultural Centre. All stages will feature a variety of musical and entertainment across the night. The Kids countdown and family friendly fireworks will begin at 9pm with the official version kicking off at midnight.
The accessibility features highlighted in Perth include:
Wheelchair Access
Audio Description
ACROD Parking
For more information on Perths new years eve accessibility events.
Adelaide Accessibility New Years Even Celebrations
The City of Churches will celebrate New Years Eve at Elder Park. Live entertainment and music at the free event will kick off at 6pm in the Park's historic rotunda. Family friendly fireworks begin at 9pm with the main event at midnight.
Accessible facilities listed by the City of Adelaide include:
Accessible drop off points and parking
Ramps
Accessible viewing platform
Accessible toilets
You can view all these Adelaide facilities via the event's map here.
And for more information, visit the Adelaide new years eve events frequently asked questions page.