They may be looking to avenge narrow losses against South Australia and NSW at the National Cricket Inclusion Championships in January but winning isn't everything for the Victorian Blind Cricket team. Being a part of this close-knit team also means working together and supporting one another, both on and off the field.
It's a warm Monday night in Melbourne and the members of the Victorian Blind Cricket team are gathering at Junction Oval. On the pristine surface of the historic ground in St Kilda, they begin their fortnightly training session with a few laps of the oval. Later, they'll run drills on the oval before heading inside to Cricket Victoria's state-of-the-art facilities for batting and bowling practice and team meetings. There's a lot to get through and the National Cricket Inclusion Championships are only a few weeks away.
While the team runs laps and drills on Junction Oval, coach Brett Wilson watches on. An unassuming man, slight of build, Wilson boasts an impressive cricket resume. He began playing blind cricket thirty years ago in his native New Zealand and only recently retired from International Cricket after more than 80 international matches for New Zealand and Australia.
'When you get older, you start reflecting on stuff that you've done and when I was reflecting on it, I was thinking well, I have done quite a bit. Bit of an achievement, which I'm quite proud of,' he said.
Wilson reels off his achievements quietly, a handful of world cups, a couple of tours of England, three Ashes series. He's travelled the world, visiting India, Pakistan, Sri Lanka and South Africa alongside England. His love for the game is obvious and he cites the camaraderie of the team as something he articularly enjoys.
'Good camaraderie, teamwork, team spirit. Not just on the field but off the field. You start networking with people and you find that your social life circle is bigger, you can go to more events. And it's a good network that if you're not feeling very well, you can always ring someone up to talk to or chat over skype and just tell them about your day because they understand, they're vision impaired as well.'
Brett Wilson values the friendships and travel opportunities cricket has given him.
Getting into the game
Like most members of the team, twenty-year-old Johnny Boland was introduced to the game by others with vision impairments. 'They suggested because I was losing my vision gradually that I should get involved in blind sport and cricket was the one that I was shown,' he said. Johnny has cone-rod dystrophy, a condition that affects the light-sensitive cells of the retina. The condition affects his depth perception and peripheral vision. After joining a local team, Johnny quickly progressed the state team. And now the national team beckons.
'Normally in the mainstream world, people just go people with vision impairment should not be playing sport…but really, it's probably one of the best things to do.'
'I'm in the [Australian] squad at the moment. So, I've been to a training camp to be selected and they'll select the squad after our national carnival in January.' Coach Brett has plenty of praise for the young cricketer. 'He made the squad, the Australian squad, through determination and he's still pretty  umble about it,' Brett said. 'He underestimates himself… The first couple of years he was very tentative, and I could see that he wanted to progress.
But now, I've seen that his games actually picked up. He's got more aggressive with his shot selection, he's attacking the ball. His bowling's faster.'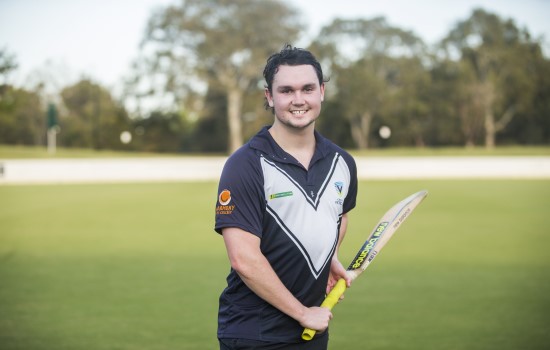 Johnny Boland is aiming for a spot in the Australian team.
Communication is key
Like any sport, fitness is important for cricket. And so too is communication. For blind cricketers, communication is far more than simply a valued part of the team experience. Each team fields eleven players, four of whom must be totally blind, or B1 classified players. Another three must be partially blind (B2) and up to four can be partially sighted (B3). The combination means that partially sighted players must use their voice to help direct their teammates.
For Matt Cameron, his ability to communicate effectively is just as important as his fitness. The top order batter describes communication between players as vital.
'If I'm on the boundary and I've got a lesser sighted player, like lesser than me, in front of me, I can tell them left or right, tell them where the ball is so we can get them to be our first line of defence to stop the ball.' For Matt, that four of his teammates must be totally blind adds an extra challenge to the game, but it's one he values. 
'Not a lot of sports favour totally blind people,' he said.
It's basically like looking down a tunnel. So, I have no peripheral, just central vision.
'It's great to see those guys represent their state and country. Because normally in the mainstream world, people just go people with vision impairment should not be playing sport…but really, it's probably one of the best things to do.'
Matt has Usher Syndrome, a condition characterised by both hearing and vision loss. He was born deaf, but it wasn't until he was 16 that he began to lose his vision. 'It's basically like looking down a tunnel. So, I have no peripheral, just central vision.'
The twenty-two-year-old is originally from NSW, where he started his cricket journey playing locally and for the state team. A move to Victoria in 2018 brought him to the Victorian team where he has been a welcome addition to the side.
'[Matt] excels at most sports,' Brett said. 'He's very fit, he trains a lot.'
'His batting is fantastic, and his fielding is excellent. You can put him anywhere in the field and he'll, he can track that ball whereas most of us can't do that. We lose it at some point, but he can track it all the way which makes him a decent boundary fielder,' Brett said.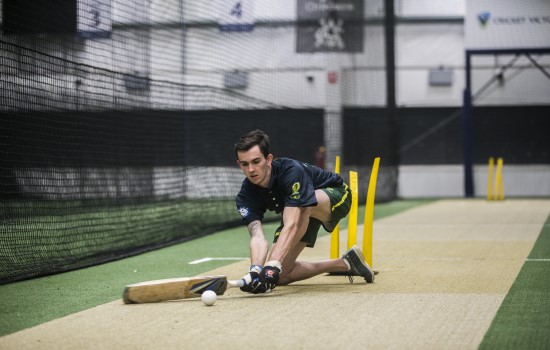 Matt Cameron demonstrates the sweeping batting style used in blind cricket.
Modified to our needs
While the rules of Blind Cricket are based on the traditional laws of the game there are some adjustments that make the sport more inclusive.
The ball is the most significant adjustment. Instead of the traditional leather, it's plastic and larger in size than the traditional. The stumps too are different, larger and fluorescent in colour. The size and colour of the stumps helps the players, both partially sighted and blind to orientate themselves.
While the differences in the ball help players to hear the ball coming, Johnny says they also help the batters to connect. 'Most people playing blind cricket will sweep the ball rather than stand up and hit it. So you have sweep your bat along the ground and you'll swing across, the idea being there's more surface areas to cover and therefore you have a better chance of hitting the ball,' he said.
There are also slightly different rules depending on the player with totally blind players allowed to take catches after the ball has bounced and unable to be given out stumped. In addition, bowlers can only bowl underarm and they must call out 'play' when they release the ball.
According to Matt, these modifications make the game more inclusive.
'The game's modified for [our] needs. 'It's honestly fun,' he said. 'Especially with the style of cricket we've been playing lately, it's a lot faster and a lot more enjoyable.'
Championship beckons
As much fun as they might be having, the Victorian team will also be looking to avenge two years of close losses at the next National Cricket Inclusion championships in January.
After dominating in the National Championships for more a decade, Brett says the last two years, with close loses to South Australia and New South Wales, have been bitter pills to swallow. 'We just expected we were going to win it,' he said.
'For now, we're rebuilding.' But the team is also focused on recruiting young players and looking at ways to make the sport more welcoming and engaging for them. Including introducing a faster style of game.
For now, Brett echoes his earlier sentiments about the extra benefits of being involved in Blind Cricket, namely the camaraderie and friendships but also the opportunity for travel.
'You can always go to the next level, play for your club, play for your state, play the elite level of cricket and make friends all over the world. 'Come down, join a team,' he said.
Matt echoes Brett's encouragement, describing how the friendship's you can make as being especially great.
'The guys down here are pretty chill and pretty relaxed. And honestly, if we see a new person we grab them and teach them. If they don't enjoy it, that's fine. But if you try it, we're more than happy to help you out.' For more information on Blind Cricket  visit the Blind Cricket website.
The origins of Blind Cricket can be traced to Prahan in Melbourne in 1922. A test match was being played in Melbourne at the time and a group of blind and vision impaired people were inspired to play themselves. They came up with the idea of putting rocks into a can and using it as a ball. Soon after, the Victorian Blind Cricket Association was formed. And the first ground and clubhouse for blind cricket was built in Kooyong in Melbourne in 1928. In 1952, the first National Blind Cricket Championships were held. By then, the rocks in a can had evolved to cane wound through a wire frame and filled with lead and bottle tops. Today, Blind Cricket is played across the country with state teams competing in the National Cricket Inclusion Championships. From there, the Australian team competes in T20 and One Day International world cups
Batting Above Average originally appeared in Issue 29 of Inform Magazine.
The National Cricket Inclusion Championships were held in Geelong from January 15 to 17. While the Victorian team were triumphant in their first game against Queensland, they fell to South Australia in the Semi Final. The NSW team were named champions after beating South Australia in the Grand Final. Find more details of the results here.