Returning to study, finding your passion and breaking down barriers are just a couple of the topics covered in the Inform podcast's first series on work. Over the course of four episodes, we explored a range of issues faced by people with disabilities as they navigate work and study.
Returning to study
In episode 1 we spoke with Antonio Vecchio. Antonio shared his story of returning to study and offered some advice for looking for work.
'Working's important because it gives me a sense of purpose, it gives me a sense of fulfillment. Working is what we do, because there's a lot of hours in the week that need filling. I get really bored really quick sometimes and if I wasn't working or studying or doing something… then yeah, I'd go crazy to be honest. There's only so many coffees you can have, and catch-ups you can do.'
Antonio is studying dual degrees in mental health and alcohol and addiction and looking for graduate roles in his field.
'Being really self-aware about my physical limitations and capacity I guess is really important. I guess just looking into and speaking with people in the industry about the type of roles out there, and I've definitely picked the brains, and they're probably sick of me, of my teachers and also other class members who are currently working in the industry as well and just asking them "do you think I would be able to do that"'.
Finding a new path
In episode 2, we spoke with Robbie Peime who shared his story of how he refocused after plan A didn't work out.
'I left school when I was about fifteen, sixteen. I wasn't really good at school, didn't like school. Always knew what I wanted to do since I was about twelve, thirteen years old, which was be a mechanic like my dad.'
'It's hard to kind of redirect your career when you've known what you want to do for such a long time. I've been riding motorbikes since I was four, you know, and I've been fixing bikes with my dad since I was eight. It's kind of all I ever knew. And all I wanted to ever do.'
After his accident, Robbie tried a few different roles. Nothing quite worked for him but after deciding to get fit and seeing a personal trainer, Robbie decided to pursue personal training.
'And I thought, kind of why not go out and become a personal trainer and specialize with people with disabilities. Because I've kind of already went through that. And there was no one really there that could help me in that time where I kind of needed someone. So why not be that person?'
Robbie now runs his own personal training business and you can hear more from Robbie here.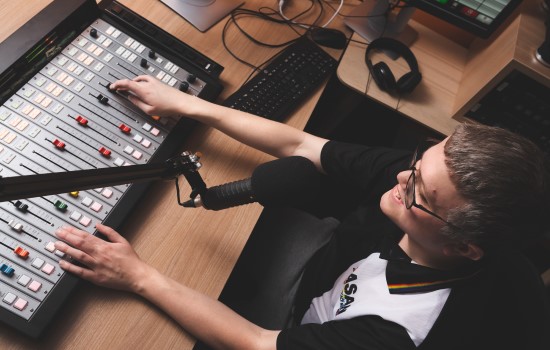 Breaking barriers
For Jarad McLoughlin, who we spoke with in episode three, going to university was about changing the narrative.
'There are a lot of media practitioners that still use a lot of outdated medical jargon and rhetoric when they're describing a person with a disability instead of seeing them through another lens.'
'I wanted to create this whole new discourse of how you can have a person with disability perform or act.'
Jarad, who is one of the presenters of De-Stigmatised with Radio Adelaide, believes it's a good idea to do some research on the company or industry that you're interested in working for or in.
Hear more from Jarad in episode three here.
WISE Employment
In the final episode of the series, we spoke with Karen Walker from WISE Employment Services. WISE is a leading provider of disability employment services. As Karen says, there are a lot of reasons why we work, and while we wouldn't work for free, we don't just work for money.
Karen explained the services the providers like WISE can offer their clients from help with resumes to interview techniques. But that's not all WISE do.
'Everyone gets anxious starting a new job anyway. So, for our clients, we try and cancel out a few of their concerns. Where do they park? Where do they put their lunch? Is there a fridge, is there a cafe, are they allowed to take their lunch, what's the name of the person they need to ask for, just all those small things that we, you know, try to help them relieve their anxiety and, and get through their first day a bit easier.'
For more tips and advice from WISE Employment, listen to episode four here.
Do you have a story to share? 
We're sure you'll find something of value in this first series of the Inform podcast, from tips and advice from people who have been there to an insight into the supports offered by disability employment services providers.
If you have a story about your experience with study or work that you'd like to share, please get in touch by emailing [email protected].
The next series of Inform will look at accessibility, but not as you might know it. Stay tuned for a new series of the Inform podcast, coming soon.
In the meantime, subscribe to Inform wherever you listen to podcasts.