Founded in 2009, Bus Stop Films is a not-for-profit organisation creating award-winning films that feature people with disability on both sides of the camera. The organisation also offers educational opportunities and advocates for the employment of people with disabilities in the film industry.
Inform caught up with Bus Stop Films CEO, Tracey Corbin-Matchett and student, Shay Bell to find out more about the organisation and inclusivity in the film industry.
A desire to connect people and a passion for film and inclusion are just a few of the things that drive Bust Stop Films CEO, Tracey Corbin-Matchett. Married to her best friend and raising three children, two of whom live with disability, Tracey made the switch to the film industry five years ago after working in social housing and domestic violence services. Shaped by her childhood and her experiences growing up in public housing, Tracey wants to change the way the world supports vulnerable people. But film is not her only passion, sport also features largely in her life. A director of Deaf Sports Australia, Tracey, who is hard of hearing, loves the way sport, like film, can bring people together.
What and who are Bus Stop Films?
Bus Stop Films is a pioneering, not for profit organisation based in Sydney dedicated to building the confidence, English skills and work ready skills of people with an intellectual disability and others from marginalised communities, through giving them access to a 'film school experience'. We use filmmaking and the film industry to raise the profile of people with disability on both sides of the camera.
We educate through our award-winning Accessible Film Studies Program, we create amazing films which win many awards and screen at festivals all around the world and we advocate for authentic casting and open employment pathways for people living with disability in the film and TV industry. And we deliver our programs in Sydney through AFTRS, in Parramatta through Information and Cultural Exchange and in Mongolia through the Arts Council of Mongolia. In 2020, we are expanding to Canberra in partnership with Screen Canberra. And returning to Wollongong in soon to be announced partnership.
Why are programs like those delivered by Bus Stop Films and work produced by Bus Stop Films so important?
Our program is so unique, there is no one else delivering a structured professional level film school program to people with disabilities. There are a lot of craft-based programs, but the importance of our program is that it offers students professional work opportunities to make a film with industry mentors and gain experience on professional productions. This year we have had students work on the production of a comedy series The Other Guys with Aquarius Films and MasterChef with Endemol Shine and a suite of commercial projects with our partner organisation Taste Creative and much more.
Additionally, the films we make are high quality entertainment, they are not traditional "student films". We show that inclusive filmmaking does not inhibit production costs or quality and that through film, we can show the world the capacity and capability of people living with disability. We use film to show what people living with disability can achieve if they are given the opportunity to.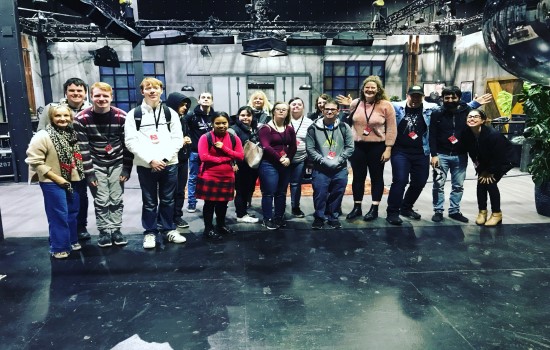 Stop Films students engage with industry, attending tapings of shows like The Voice
Shay Bell attended a free workshop held by Bus Stop Films when they launched their western Sydney program last year. And the rest, as they say in the movies, is history. The year 12 student, who cites musicals Mamma Mia and Grease as his favourite films, joined the organisation's Parramatta program this year. He has fast become a valued member of the class. Tracey describes Shay as a 'brilliant student, very switched on and knowledgeable about filmmaking, especially the technology'. Sport is also on Shay's agenda. The nineteen-year-old plays basketball and soccer and regularly attends rugby and soccer games. But it's theatre he sees his future in.
How did you become involved with Bus Stop Films?
I became involved in Bus Stop Films by going to a trial class last year and attending the red carpet event at Event Cinemas George Street put on by Bus Stop Films.
What sort of work do you do with Bus Stop Films?
At Bus Stop Films this year we are making a virtual reality film. We recently learned about mise en scène, analysing different films like Presto, The Lion King, The Wizard of Oz, Toy Story 2, Harry Potter and the Philosopher's Stone and The Hobbit.  We have also been learning about different types of shots like extreme wide shot, wide shot, extreme close up, a two-shot, over-the-shoulder-shot, point-of-view-shot, medium close up, close up and a mid shot. And we have been analysing the shots in films like Star Wars I. We have also been learning about camera angles and the different types. For example, eye level, high angle, low angle and dutch tilt. We watched Batman Forever to analyse the shots and camera angles. We have recently started learning about what happens in pre-production, production and post-production.
What do you enjoy about working with film?
I enjoy learning how to use the camera and editing.
What do you hope to do after you finish high school?
I hope to work as a backstage crew member doing sound and lighting at live theatre productions.
What would be your advice to anyone thinking about studying or working in the film industry?
I would recommend to anyone thinking about studying or working in the film industry to expect to have a lot of fun. But also be prepared for quite a lot of theory work that you have to do. It's not all practical work.
For more information on Bus Stop Films.