In the current state of the world, it's more important than ever to have ways to stay connected and find meaningful activities to do from home. Desmond, a James Cook University Information Technology student from North Queensland is making custom controllers for people with disabilities so they can play the games they want how they want.
Desmond McConnell, who runs Retro Repository, has been interested in electronics for as long as he can remember. For the last 12 years, he's been professionally repairing electronics, and he's been doing console modifications for the last five years.
One day, he was approached by a physiotherapist who couldn't find anyone to create a custom controller for one of his clients, Carter Giddy, who had limited hand mobility. Desmond had prior experience in making modifications and repairs and decided to try and see what he could do. He believes it's important for everyone to be able to play the games they want and understands the importance of gaming, not only for fun, but for social connection, too.
Desmond also has a connection to disability. Several people in his family, including his wife, son, and nephews, have a variety of disabilities including autism, hearing impairment, and diabetes, so he's aware of the way opportunities aren't always available to people with disabilities. He tries to make sure he can support the loved ones in his life with getting the opportunities they deserve despite the obstacles they may face.
The process
When Desmond begins working on a new project, he starts by getting to know his client. It's important to find out what kind of games they play, what sort of consoles they use, to learn about their mobility, and how the controller will be used (on the lap or on a table for example).
Afterwards, Desmond creates a 3D model of the first iteration of a custom controller. Then he fine tunes. He takes into consideration things like contact sensitivities to materials and for final products he allows clients to choose the colours of their custom controllers.
Once he's made a completed model, he can create a new circuit board and link it back to the original controller. The prototyping process is repeated until the client is completely satisfied.  So far, Desmond has only created one complete controller but has several others in the works and he's always keen to take on new clients.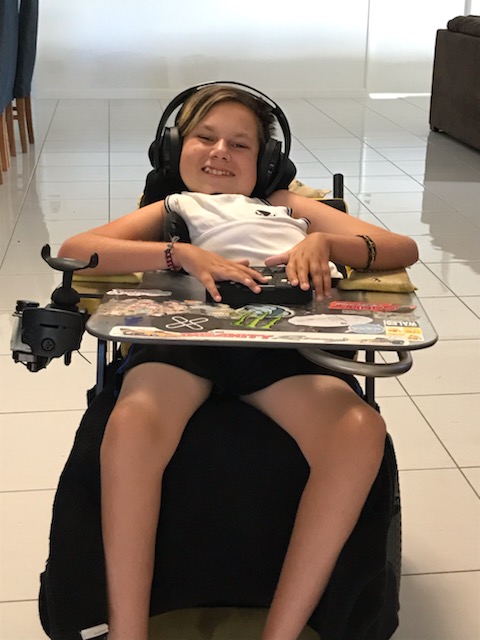 The future of accessible gaming
Carter Giddy is a 15-year-old from North Queensland. He wants to work as a game programmer when he's older and is already doing some programming at school. Growing up, Carter couldn't do all of the same activities as his friends. He has spinal muscular atrophy type 2 (SMA2) which causes progressive muscle weakness, so sports and other physical activities were off the table. But when it came to video games, he was on a level playing field.
Carter grew up in a gaming family. When he was just a toddler, he started playing with his dad and brother. It's more than a hobby for him. It's a way to feel connected and to have fun with friends. Last year, Carter lost more of his muscle tone when he became ill with pancreatitis, so even though he'd been able to work around and find his own way to use controllers in the past, this loss of muscle tone meant that he wasn't able to use a standard controller anymore. For Carter, getting his custom controller means he gets a huge part of his life back, and he and his friends couldn't be more excited about it.
Having a custom controller is great, but it's important to have an accessible game, too. "It's like watching the trailer to a movie, buying the movie, and then finding out it won't play," Carter said of the frustration surrounding inaccessible games.
Haley Zilberberg is a Melbourne-based writer and social worker from Florida. She's passionate about disability advocacy and currently works as the Workshop Liaison Officer at the Youth Disability Advocacy Service (YDAS). She also serves as the co-president of Accessible Unimelb, a disability advocacy group at the University of Melbourne. She is completing her Master of Marketing Communications at the University of Melbourne.